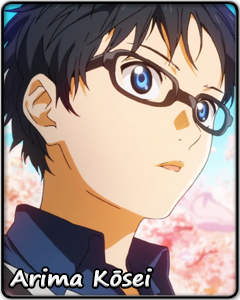 | | |
| --- | --- |
| Name: | Arima Kōsei |
| Title Series: | Shigatsu wa Kimi no Uso |
| Voiced by: | |
Career ISML Performance
2016:

Moe Tournament Résumé
2015: Animefans Saigar Tournament - Round of 72
2015: Best Guy Contest - Round of 256
2015: Bilibili Moe - Male Tournament - Round of 128
2016: Best Guy Contest - Round of 256

Be careful what you wish for; you might just get it.

A spur of the moment response and the events that followed was enough to traumatize Arima Kōsei to be unfit to play the piano. A touch of the keyboard was enough to recall the days of the past, both the good and the bad. With the bad memories overriding the good more often than not, what used to be his favorite pastime just to make his mother smile became a curse that he may never get rid of.

An encounter with an unconventional girl had Kōsei question whether or not it was okay to continue like his. Yes, his talent may be wasted, and there are other opportunities out there if he wanted to continue to pursue music, but was he willing to have his past haunt him forever? Kōsei knows that this cannot go on much longer, but he is afraid that if he returns to the world of competitive performance once more, the past would only repeat itself, and he may be left with more grief than before.

With the help from his friends, Kōsei decides to take one step forward to the world of competitive music once again. If he is going to overcome his fears, he will do so in the grandest stage of them all.


Past Notable Matches