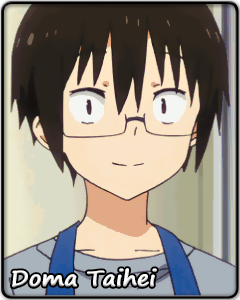 | | |
| --- | --- |
| Name: | Doma Taihei |
| Title Series: | Himōto! Umaru-chan |
| Voiced by: | |
Career ISML Performance
2016:

Moe Tournament Résumé
2015: Bilibili Moe - Male Tournament - Round of 16

It is not easy to be supporting a younger sister with contrasting personalities inside and outside of the household. Doma Taihei can speak from experience.

Life as an office worker is not as boring as it appears to be. It gives Taihei something to do, and the salary is enough for him and his sister to get by with. It also helps that his coworkers consists of two good friends who have been there with him since high school. Every day is a new experience for him, and it keeps Taihei on his toes if something were to go wrong during his job.

Inside the household, Taihei takes a more serious role as the guardian and bread bringer. He gets frustrated when his younger sister acts lazy and is not cleaning up after herself. He is always looking for something to do, whether it is cleaning the house or preparing for his and his sister's next meal. When the day appears over, it is not over yet for Taihei, as he can be seen typing late at night, trying to get a head start on his next project or speeding up the pace of his current project. Every day is a tiring experience, but Taihei wants to make sure everything is fine at the end of the day.

It may not be the most entertaining life out there, but for Taihei, he is satisfied with keeping this pace and atmosphere as it is.


Past Notable Matches