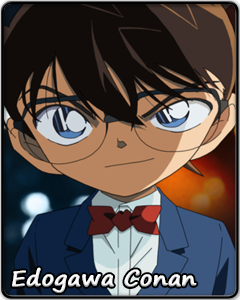 | | |
| --- | --- |
| Name: | Edogawa Conan |
| Title Series: | Detective Conan |
| Voiced by: | |
Career ISML Performance
2016:

Moe Tournament Résumé
2008: Korean Super Best Moe - Round of 160
2009: Korean Best Moe - Male Tournament - Round of 64
2010: Animefans Saigar Tournament - Round of 33
2010: Korean Best Moe - Male Tournament - Round of 64
2010: Korean Super Best Moe - Round of 32
2011: Animefans Saigar Tournament - Round of 64
2012: Animefans Saigar Tournament - Round of 64
2012: Korean Best Moe - Male Tournament - Round of 96
2013: Animefans Saigar Tournament - Round of 72
2013: Korean Best Moe - Male Tournament - Round of 32
2015: Bilibili Moe - Male Tournament - Round of 128

"There is only one truth!"

With his mind fixed on discovering that only truth, the famous high school detective once tried to spy on a suspicious organization, but ended up getting busted and treated as a guinea pig for their new experimental poison. Fortunately enough, the poison did not kill him, but the side effects of it shrank his body into that of his six-year-old self instead. Knowing it would be dangerous if they found out he is still alive, he decided to take a new identity, and that is the moment Edogawa Conan was born.

As a former high school detective, Conan has extremely high investigating, observing, and memorizing skills. He also possesses a broad knowledge of various crime cases through reading and experiencing, which plays a vital role in solving hundreds of mysteries. Add in a little calm, collected, yet strangely persistent, and there we have the famous high school detective everyone has at least once heard of.

With his new identity, Conan now has two missions. As a detective he once was, Conan cannot let any crime cases around him left unsolved, even when nobody believes him, as he is merely a kid in their eyes. But as Edogawa Conan, he has to act like a playful child, to keep his real identity completely hidden, not only for his own safety, but also for the sake of everyone he loves. As he balances between the two missions, Conan continues to find clues of the organization that turned him into a kid, dreaming of the day he will finally come back to his real self.

Edogawa Conan might be a talented detective, but as he encountered the unexpected turn of events that day, even he has no clue of what might be waiting for him in the future.


Past Notable Matches