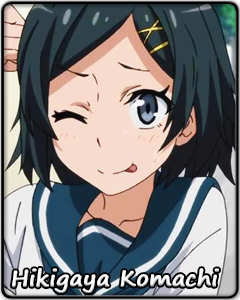 | | |
| --- | --- |
| Name: | Hikigaya Komachi 「比企谷小町」 |
| Title Series: | OreGairu |
| Voiced by: | Aoi Yūki |
Career ISML Performance

Moe Tournament Résumé

Do not let the personality on her older brother fool you. One's first impression of Hikigaya Komachi may be that she is on the opposite side of the energy spectrum.

It is not really that difficult to be the younger sister of an indifferent brother. Komachi needs to simply pressure him into thinking that her words are right, and he is already at the palm of her hand. With her playful personality and bright attitude, it is not hard to see who truly wears the pants in the brother and sister dynamic.

While she may appear bright and happy at first, Komachi can easily switch to a darker tone. She is angry, angry that people are not telling her their true feelings and what they really want to do. She is sneering at those who try to run away from a situation related to them rather than solve it. Most importantly, she despises the idea that they think they are all alone to deal with a problem. She will always lend an ear to those in need. Simply telling her their true thoughts would reinvigorate the smile in her face.

Whether it is her friends, strangers, or her own brother, Komachi is more than willing to help out when needed. All one needs to do is ask and Komachi will be there by his or her side.


Past Notable Matches