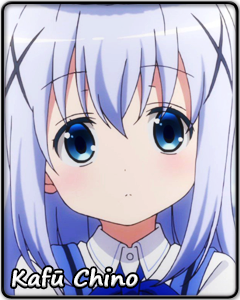 | | |
| --- | --- |
| Name: | Kafū Chino |
| Title Series: | Gochūmon wa Usagi Desu ka? |
| Voiced by: | Minase Inori |
Career ISML Performance
2016:

Moe Tournament Résumé
2014: Anime Saimoe Tournament - Round of 32
2014: Baidu Nova Moe - Round of 64
2014: Best Girl Contest - Round of 512
2014: Senpuu Saimoe Tournament - Round of 96
2014: The Great Awwnime Bracket - Round of 256
2015: Animefans Saimoe Tournament - Round of 64
2015: AnimeGirl Saimoe Tournament - Round of 16
2015: Baidu Anime Saimoe Tournament - Round of 16
2015: Baidu Nova Moe - Round of 32
2015: Miss Anime Tournament – 2nd Place
2016: AnimeGirl Saimoe Tournament - Round of 64
2016: Best Girl Contest - Round of 512
2016: Hongkong Golden Saimoe - Quarterfinalist
2016: Senpuu Saimoe Tournament - Round of 288
2016: The Great Awwnime Bracket - Semifinalist
2016: Yamibo Yuri Saimoe - Round of 16

What else to start one's day than a kind girl serving one coffee with a hospitable café like hers?

Kafuu Chino is the daughter of a barista who was handed over the ownership of an ambient café. Quiet, poised, and quite mature for her age, Chino lives a leisurely life spending time with her customers while making sure they have a nice day there. Life in a family café may seem dull and boring at first glance, but Chino enjoys every minute of this peaceful place as she tries to learn new recipes and techniques to provide better service for her customers.

Although she may act mature, Chino is still in grade school and acts as any other child would. She may scold her co-workers for slacking off, but does not know how to act when they get too friendly with her. She doesn't mind going out with her friends as long as it does not take too much of her time, but even she cannot keep track of time when she is enjoying every minute of her life. She is often seen playing around with her grandfather with a smile unlike she has shown in public. Maybe this is why her father and grandfather would like her to go out more – to explore the world and obtain knowledge that she may not have had if she had stayed in their café.

A beautiful aroma can be sensed coming out from their small café. Chino opens the door, ready to serve her next guest.


Past Notable Matches