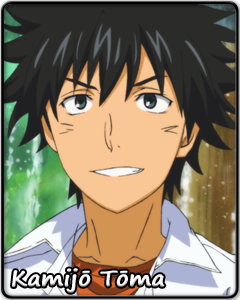 | | |
| --- | --- |
| Name: | Kamijō Tōma 「上条 当麻」 |
| Title Series: | Toaru Majutsu no Index |
| Voiced by: | Abe Atsushi |
Career ISML Performance
2015:
2016:

Moe Tournament Résumé
2010: Animefans Saigar Tournament - Round of 33
2010: Korean Best Moe - Male Tournament - Round of 64
2010: Korean Super Best Moe - Round of 128
2011: Animefans Saigar Tournament - Round of 64
2012: Korean Best Moe - Male Tournament - Round of 32
2013: Animefans Saigar Tournament - Round of 32
2014: Animefans Saigar Tournament - Round of 72
2015: Best Guy Contest - Round of 256
2016: Best Guy Contest - Round of 256

He is either the luckiest guy in the world or the most unfortunate one of them all.

Kamijō Tōma lives a normal school life with his peers. Everything about his life would have been just the way he wanted if it were not for that right hand of his. His right hand is said to negate all kinds of phenomena, including his own luck. Finding himself in precarious positions more often than not, Tōma wonders why he has this mysterious power and why he has to go through these series of misfortunes. How hard can it be to have a normal life?

But then again, Tōma is not the type to just stand by and watch things unfold when evil starts to lurk in the shadows. Call him brave or reckless, but Tōma will do anything if it means getting his friends out of trouble and making sure that justice is served. Tōma is willing to face even gods if they are trying to harm those whom he cares about the most. After all, fighting the bad guys is probably less stressful than trying to get a drink and change from a broken vending machine. Even if the thing seemed to work perfectly fine the other day.

If there are any villains out there trying to ruin the peace of Tōma's city, they have to go through him first. With his right hand, Tōma will make sure to shatter their illusions.


Past Notable Matches