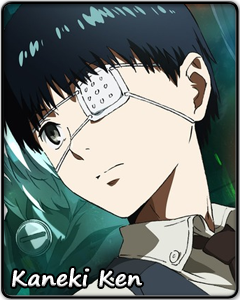 | | |
| --- | --- |
| Name: | Kaneki Ken 「金木 研」 |
| Title Series: | Tokyo Ghoul |
| Voiced by: | Hanae Natsuki |
Career ISML Performance
First year of participation

Moe Tournament Résumé
Round of 64 - Best Guy Contest 2015

If he is neither human nor monster, then who or what is he?

It was only yesterday that Kaneki Ken was going out with his crush. Now, he is showing signs of having become something humanity fears. His favorite delicacy now tastes to him like rotten food, while a human corpse smells enticing. He starts to panic. He does not know what to do, where to go, or who to seek for advice. He wishes to go back to when he was once human, but that may never come to pass.

But because he has converted in an unusual manner, he is able to see things from a different perspective than anyone else. Ken realizes that society has corrupted the idea of what the beings called ghouls really are. In truth, they are as human as everyone else. Knowing what they have to go through, they try to help each other out as one big family. Ken can see how tight those bonds are and wishes for nothing more than for others to see them the same way he does

In a kill-or-be-killed world where only the fittest survive, Ken will jump in the middle of a confrontation in hopes of resolving the conflict in a peaceful manner. There must be a way for humans and ghouls to coexist, and Ken must find the answer, even if he is to be alone in his search.


Past Notable Matches

Best Guy Contest 2015: (Round of 64)
Round of 64: 1756-4430 to Edward Elric (Fullmetal Alchemist)