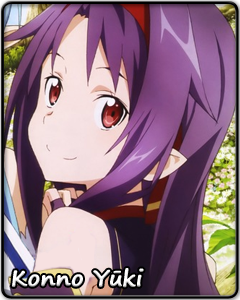 | | |
| --- | --- |
| Name: | Konno Yūki 「紺野 木綿季」 |
| Title Series: | Sword Art Online |
| Voiced by: | Yūki Aoi |
Career ISML Performance
2015: 17th Place Nova Division. Record: (16-0-19)
2016:

Moe Tournament Résumé
2013: Baidu Harem Moe - Round of 64
2015: Animefans Saimoe Tournament - Round of 16
2015: Baidu Anime Saimoe Tournament - Round of 160
2015: Baidu Harem Moe - Round of 64
2015: Baidu Nova Moe - Round of 32
2015: Best Girl Contest - Round of 128
2015: Bilibili Moe - Round of 128
2015: Ore no Saimoe - Round of 16
2015: Senpuu Saimoe Tournament - Round of 96
2016: Best Girl Contest - Round of 128

To be alive means to fight; to fight means to be alive.

Konno Yūki is considered the strongest character in one of her world's many virtual reality games. Her movements are quick, her eyes are sharp, and her blade is always ready to strike. She is as graceful flying in the air as she is dancing with her sword. And when she has her opponents right where she wants them, Yūki will unleash a series of blows so fast that the naked eye cannot see what has transpired before her opponents fall limply down to the ground.

While a fearsome warrior in the virtual world, Yūki is just your average girl who desires to live life to the fullest. Creating a party of like-minded individuals, going on crazy adventures, forming strong ties with various members of the game – these are some of the things that Yūki had always wanted to do, but could not in the real world. The happy smile on her face hides a truth that she is too afraid to share, one that she knows will truly make those close to her sad.

The blade in her hand echoes her fears and doubts about what the future may hold, but Yūki will keep on playing, keep on fighting, and most importantly, keep on living.


Past Notable Matches

ISML 2015 Regular Season: (17th Place)
Aquamarine 6: 2863-2939 to Latifa Fleuranza (Amagi Brilliant Park)
Amethyst 5: 2965-3015 to Miyazono Kaori (Shigatsu wa Kimi no Uso)
Amethyst 7: 3352-3378 to Shiba Miyuki (Mahōka Kōkō no Rettōsei)
Emerald 2: 2493-2579 to Nishikino Maki (Love Live!)


Best Girl Contest 2015: (Round 3)
Round 3: 4042-5280 to Hachikuji Mayoi (Monogatari Series)