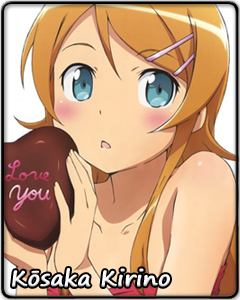 | | |
| --- | --- |
| Name: | Kōsaka Kirino 「高坂桐乃」 |
| Title Series: | Ore no Imōto ga Konna ni Kawaii Wake ga Nai |
| Voiced by: | Taketatsu Ayana |
Career ISML Performance
2011: 20th Place. Record: (31-0-18)
2012: 6th Place Nova Division. Record: (29-0-6)
2012: 15th Place League Finals
2013: 10th Place Stella Division. Record: (27-0-8)
2013: 14th Place League Finals
2014:
2015:
2016:

Moe Tournament Résumé
2010: Korean Super Best Moe - Round of 64
2011: Anime Saimoe Tournament - Round of 96
2011: Animefans Saimoe Tournament - Round of 64
2011: Baidu Anime Saimoe Tournament - Round of 32
2011: Baidu Harem Moe - Round of 32
2011: Korean Best Moe - Round of 96
2012: Animefans Saimoe Tournament - Round of 16
2012: Baidu Harem Moe - Round of 16
2013: Anime Saimoe Tournament - Round of 40
2013: The Great Awwnime Bracket - Round of 32
2014: Anime Saimoe Tournament - Round of 192
2014: Baidu Harem Moe - Round of 64
2014: Best Girl Contest - Round of 128
2014: The Great Awwnime Bracket - Round of 32
2015: Baidu Harem Moe - Round of 64
2016: Best Girl Contest - Round of 256

Kōsaka Kirino has everything a middle-schooler could possibly desire, and what she does not have, she gets. Beautiful, smart, and athletic, she is the target of envy of all those around her, but still has a loyal group of friends to hang out with. She also stores a mountain-sized stash of adults-only siscon merchandise in her closet, something she has to keep hidden at all costs.

Life taught Kirino to fight for what she wants with her own two hands. But if there is one thing she cannot get just by trying hard enough, it is social acceptance for her hobby. Even people as incredible as her fear rejection. For Kirino, this means an internal war between who she wants to be and who she really is.

Kōsaka Kirino has no intention of backing down from the challenge ahead of her. But what she needs right now is something she has never had to do before. She must learn to accept others, imperfect as they may be, as her friends and equals. She must swallow her pride and ask for help. Most importantly, she needs to start trusting the people closest to her.

But nobody with Kirino's fiery personality would just humbly accept all those lessons. Kirino's temper is sure to make things difficult for her and all those around. But as they say, no pain, no gain.


Past Notable Matches

ISML 2011 Regular Season: (20th Place)
Emerald 1: 3332-3343 to Sengoku Nadeko (Bakemonogatari)

ISML 2013 Championship: (14th Place)
Round of 16: 4445-6431 to Shiina Mashiro (Sakura-sō no Pet na Kanojo)