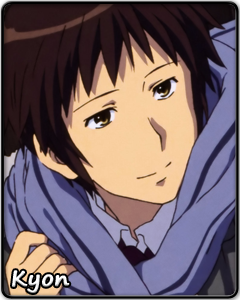 | | |
| --- | --- |
| Name: | Kyon 「キョン」 |
| Title Series: | Suzumiya Haruhi no Yūutsu |
| Voiced by: | Sugita Tomokazu |
Career ISML Performance
2015:
2016:

Moe Tournament Résumé
2008: Korean Super Best Moe - Round of 160
2010: Animefans Saigar Tournament - Round of 16
2010: Korean Best Moe - Male Tournament - Round of 64
2010: Korean Super Best Moe - Round of 32
2011: Animefans Saigar Tournament - Round of 64
2011: Korean Best Moe - Male Tournament - Round of 32
2013: The Great Awwnime Bracket - Boys Bracket - Round of 16
2015: Animefans Saigar Tournament - Round of 72
2015: Best Guy Contest - Round of 16
2015: Bilibili Moe - Male Tournament - Round of 128
2016: Best Guy Contest - Round of 32
2016: The Great Awwnime Bracket - Round of 256

Imagine a world where aliens, time travelers, espers, and dimension sliders co-existed with humans. How fun would it be if one could interact with those extraordinary beings and still enjoy one's everyday life!

Unfortunately, no matter how long he waits, Kyon's dream did not manifest. Kyon's world is not even half as exciting as he would like it to be. Forced to realize that his dreams of science fiction and the supernatural are just that, Kyon decides to settle down and live a normal life... until his meeting with a mysterious girl rekindles his desire to seek the extraordinary. And when the very beings whose existence he began to doubt start showing up around him one after another, Kyon believes all of this to be too good to be true.

However, with great knowledge comes great responsibility. Surrounded with an explosive combination of supernatural beings, Kyon finds himself having to act as the straight man, mediator, and voice of reason for the group. Kyon must keep a level head at all times, even as talking cats, parallel digital worlds, time-space rifts, and the like spring up all around him whenever he least expects them. Sometimes things take a turn for the worse, or go way beyond his comprehension, but at the end of the day, Kyon never complains about his new situation. In fact, if given the choice between living a life with or without these experiences, Kyon would quickly choose the former and not look back.

After all, how can a world where science fiction and the supernatural are real not be fun?


Past Notable Matches