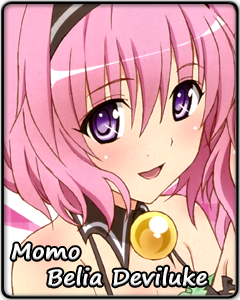 | | |
| --- | --- |
| Name: | Momo Belia Deviluke 「モモ・ベリア・デビルーク」 |
| Title Series: | To LOVE-Ru |
| Voiced by: | Toyosaki Aki |
Career ISML Performance
2013: 13th Place Nova Division: Record: (20-0-15)
2014: 16th Place Nova Division. Record: (19-0-16)
2015:
2016:

Moe Tournament Résumé
2010: Baidu Harem Moe - Round of 192
2011: Anime Saimoe Tournament - Round of 288
2011: Baidu Harem Moe - Round of 64
2011: Korean Best Moe - Round of 96
2013: Anime Saimoe Tournament - Round of 288
2013: Baidu Harem Moe - Round of 16
2014: Baidu Harem Moe - Quarterfinalist
2014: Best Girl Contest - Round of 256
2014: Senpuu Saimoe Tournament - Round of 96
2014: The Great Awwnime Bracket - Round of 256
2015: Baidu Harem Moe - Quarterfinalist
2015: Best Girl Contest - Round of 512
2016: AnimeGirl Saimoe Tournament - Round of 32
2016: Baidu Harem Moe – 1st Place
2016: Best Girl Contest - Round of 512
2016: The Great Awwnime Bracket - Round of 256

A pretty face, a well-balanced figure, a cute voice, good grades, and great athletic ability – Momo is the ideal girlfriend anyone would want to have… but is that really her?

Anyone who is not her friend, whom she does not know, and who she does not trust is a hindrance. They are nothing more but creatures she is forced to be nice around to maintain her "nice girl" act and high status. Humans are so gullible to her good nature that it is easy to manipulate them to do whatever it is that she wants. And she will obtain whatever she desires; no questions asked.

Of course, no one knows that is how Momo thinks or feels. Not even her sisters or best friends are able to crack what is going on in her mind. Is she going to conjure up a scheme involving them as an experiment for her plan? Is she willing to do something "interesting" to them for her amusement to see what happens next? How much of what she does is through genuine interest rather than cunning intent? These questions may never be answered.

In fact, the only person that Momo can share her feelings with… is herself.


Past Notable Matches

ISML 2013 Regular Season: (13th seed)
Aquamarine 3: 4028-3917 over Kirigaya Suguha (Sword Art Online)

ISML 2014 Regular Season: (16th Place)
Aquamarine 1: 3417-3452 to Chocolat (NōKome)
Amethyst 4: 2573-2477 over Tobiichi Origami (Date A Live)
Ruby 4: 2192-2033 over Haqua du Lot Herminium (Kami nomi zo Shiru Sekai)
Emerald 2: 2133-2081 over Yūki Mikan (To LOVE-Ru)
Emerald 4: 2189-2054 over Yui (Sword Art Online)
Topaz 4: 2134-2065 over Takanashi Tōka (Chūnibyō demo Koi ga Shitai!)


Girls Bracket 2013: (Round 1)
Round 1: 621-790 to Hakurei Reimu (Tōhō Project)

Great Awwnime Bracket 2014: (Round 1)
Round 1: 304-363 to Kosaka Chihiro (Kami nomi zo Shiru Sekai)

Best Girl Contest 2014: (Round 2)
Round 2: 1733-3843 to Hatsuse Izuna (No Game No Life)