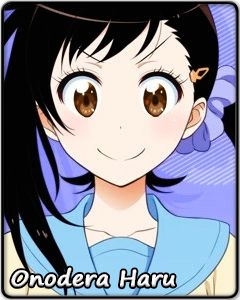 | | |
| --- | --- |
| Name: | Onodera Haru 「小野寺春」 |
| Title Series: | Nisekoi |
| Voiced by: | Sakura Ayane |
Career ISML Performance

Moe Tournament Résumé

As the saying goes, if you want to get to the older sister, you have to go through the younger sister first.

Onodera Haru is the younger, more level-headed of the two sisters and, more often than not, acts as the older sister. Her keen sense of danger, high standards, and social morals make her the prime bodyguard ready to fend off any lecherous eyes that come to her direction. The slightest sight of touching hands sends her flying in the air for combat. A smile or a blush never seen by her before means a potential threat. If the man is not up to her standards, Haru will get rid of him on the spot.

While acting jumpy and cautious most of the time, Haru does have a more romantic side to her. She also wishes that there would be a noble prince out there who would sweep her off her feet and take her to a land only the two can share. And if that prince were to leave a valuable trinket for her to commemorate their time together, she would be in true bliss.

Until that time comes, she would much rather look after her sister's romantic relationship than pursue her own. But, as the saying goes, love has a mysterious way to showing its true colors.


Past Notable Matches