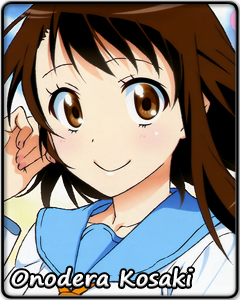 | | |
| --- | --- |
| Name: | Onodera Kosaki 「小野寺 小咲」 |
| Title Series: | Nisekoi |
| Voiced by: | Hanazawa Kana |
Career ISML Performance
2015: 3rd Place Nova Division. Record: (32-0-3)
2015: 9th Place League Finals
2016:

Moe Tournament Résumé
2014: Anime Saimoe Tournament - Round of 20
2014: Baidu Nova Moe - Round of 64
2014: Best Girl Contest - Round of 32
2014: Hongkong Golden Saimoe - Round of 48
2014: The Great Awwnime Bracket - 2nd Place
2015: Animefans Saimoe Tournament - Round of 144
2015: AnimeGirl Saimoe Tournament - Round of 32
2015: Baidu Anime Saimoe Tournament - Round of 32
2015: Baidu Harem Moe - Round of 64
2015: Baidu Nova Moe - Round of 64
2015: Best Girl Contest - Round of 16
2015: Bilibili Moe - Round of 128
2016: AnimeGirl Saimoe Tournament - Round of 16
2016: Baidu Harem Moe - Round of 32
2016: Best Girl Contest - Round of 16
2016: The Great Awwnime Bracket - Round of 32

She loves him, and he loves her back. Alas, one is way too shy; the other just cannot muster up the courage to profess his love. Will this love remain forever unfulfilled as both sides hesitate to make the first move?

Meet Onodera Kosaki, the popular and kindhearted girl that every guy dreams about. Her weapons? The kindness she protrudes, the almighty smile, and the shyness that is all too cute. But, whatever the boys around her might think, Kosaki spends her days just like any teenage girl – hanging out with her friends, doing girly things, and just acting as herself.

If there is something unusual about her life, it is the fact that her crush just happens to be the son of the neighborhood yakuza. But he isn't scary, Kosaki thinks to herself as she reminisces about the kind smile she has known since childhood.

While she might not be the only one after the lad's heart, she still manages to make friends with her competitors. That is just how she is – open-hearted to everyone around her, to her friends, and even to her rivals. However, that does not mean she is going to hold back in the battle for love.

So, meet Onodera Kosaki, not as a 17-year-old girl living out her school life, but rather as a girl struggling to say three simple words: "I L-O-V-E Y-O-U".


Past Notable Matches

ISML 2015 Regular Season: (3rd Place)
Aquamarine 7: 4043-3902 over Sakura Chiyo (Gekkan Shōjo Nozaki-kun)
Amethyst 7: 3794-3881 to Yukinoshita Yukino (OreGairu)
Ruby 5: 2506-2577 to Yatogami Tōka (Date A Live)
Topaz 7: 2962-3032 to Jibril (No Game No Life)

ISML 2015 Championship: (9th Place)
Round of 16: 3599-3162 over Saber (Fate Series)
Quarerfinals: 4066-4348 to Chitanda Eru (Hyōka)


Best Girl Contest 2014: (Round 5)
Round 5: 4212-4391 to Yoko Littner (Tengen Toppa Gurren Laggan)

Great Awwnime Bracket 2014: (2nd Place)
Group Finals: 585-567 over Sakura Chiyo (Gekkan Shōjo Nozaki-kun)
Semifinals: 550-435 over Kirisaki Chitoge (Nisekoi)
Finals: 634-649 to Oshino Shinbou (Monogatari Series)

Anime Saimoe Tournament 2014: (Round 1)
Round 1: 113-187-65 to Souseiseki (Rozen Maiden) & over Arakawa Kei (Saki)

Animefans Saimoe Tournament 2015: (Round of 144)
Round of 144: 162-212-259 to Kitashirakawa Anko (Tamako Market) & Makise Kurisu (Steins;Gate)

Best Girl Contest 2015: (Round of 16)
Round of 16: 5352-5818 to Aisaka Taiga (Toradora!)