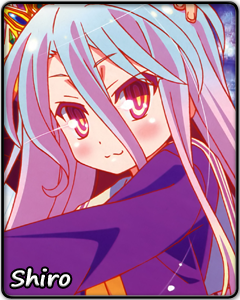 | | |
| --- | --- |
| Name: | Shiro 「白」 |
| Title Series: | No Game No Life |
| Voiced by: | Kayano Ai |
Career ISML Performance
2015: 4th Place Nova Division. Record: (30-0-5)
2015: 13th Place League Finals
2016:

Moe Tournament Résumé
2014: Anime Saimoe Tournament - Round of 120
2014: Baidu Nova Moe - Round of 32
2014: Best Girl Contest - Round of 32
2014: Senpuu Saimoe Tournament - Round of 32
2014: The Great Awwnime Bracket - Round of 32
2015: Animefans Saimoe Tournament - Round of 32
2015: AnimeGirl Saimoe Tournament - Round of 32
2015: Baidu Anime Saimoe Tournament - Round of 160
2015: Baidu Harem Moe - Round of 16
2015: Best Girl Contest - Round of 64
2015: Bilibili Moe - Round of 16
2015: Senpuu Saimoe Tournament - Round of 288
2016: AnimeGirl Saimoe Tournament - Round of 64
2016: Baidu Harem Moe - Round of 32
2016: Best Girl Contest - Round of 64
2016: The Great Awwnime Bracket - Round of 32

If an anonymous e-mail offered to transport you to a world where everything is decided through a game, would you take the offer? Not only did Shiro and her brother do just that, they did not need to think twice about it. And the new world they ended up in... is so much better than Earth!

If it is about games, the team made up of Shiro and her brother, collectively known as Blank ( [ ] ), will never lose. Coming up with a multitude of strategies both before and during battle, Blank will unfailingly make sure that they are always one step ahead of their opponent. Thinking together and working as a unit, if a situation does not go their way, they will just have to come up with a new plan, no matter the pressure they are under or how much is at stake.

Individually, Shiro is logical, calculating, and a quick learner. Shiro's vast knowledge and her ability to calculate all possible outcomes and combinations in a single game as well as predict her opponent's next move all make her a formidable opponent. Shiro may not do so well with unconventional thinking, but she does not need to be. She has absolute trust that her brother will take care of that part for her. Outside of gaming, Shiro enjoys learning about new things. She also likes cute things and being doted on by her brother every so often. Shiro may not like it when people treat her like a child, but there are moments where she does not mind it, if it works in her favor.

While this new world of games appears fun, there must be a dark side to all this freedom. Shiro is willing to face God himself if it means finding out why this world functions in this particular manner. And that would be one game Shiro, her brother, and the world as a whole, cannot afford to lose.


Past Notable Matches

ISML 2015 Regular Season: (5th Place)
Topaz 6: 3575-3487 over Stephanie Dola (No Game No Life)

ISML 2015 Championship: (13th Place)
Round of 16: 2861-4696 to Shiina Mashiro (Sakura-sō no Pet na Kanojo)


Best Girl Contest 2014: (Round 5)
Round 5: 3808-5120 to Akemi Homura (Puella Magi Madoka ☆ Magica)

Great Awwnime Bracket 2014: (Round 4)
Round 4: 321-479 to Sakura Chiyo (Gekkan Shōjo Nozaki-kun)

Anime Saimoe Tournament 2014: (Round 1)
Round 1: 150-159-58 to Ogiso Setsuna (White Album 2) & over Kurahashi Riko (Love Lab)

Animefans Saimoe Tournament 2015: (Round of 32)
Round of 32: (461+8)-(811+7) to Nibutani Shinka (Chūnibyō Demo Koi ga Shitai!)

Best Girl Contest 2015: (Round 4)
Round 4: 4707-4997 to Tadokoro Megumi (Shokugeki no Sōma)