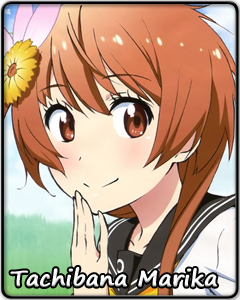 | | |
| --- | --- |
| Name: | Tachibana Marika 「橘 万里花」 |
| Title Series: | Nisekoi |
| Voiced by: | Asumi Kana |
Career ISML Performance
2015: 15th Place Nova Division. Record: (21-0-14)
2016:

Moe Tournament Résumé
2014: Anime Saimoe Tournament - Round of 120
2014: Best Girl Contest - Round of 64
2014: Senpuu Saimoe Tournament - Round of 96
2014: The Great Awwnime Bracket - Round of 128
2015: Baidu Anime Saimoe Tournament - Round of 160
2015: Baidu Harem Moe - Round of 64
2015: Best Girl Contest - Round of 128
2015: Senpuu Saimoe Tournament - Round of 288
2016: AnimeGirl Saimoe Tournament - Round of 64
2016: Baidu Harem Moe - Round of 64
2016: Best Girl Contest - Round of 128
2016: Hongkong Golden Saimoe - Round of 192
2016: Senpuu Saimoe Tournament - Round of 96
2016: The Great Awwnime Bracket - Round of 256

There is a new girl in town… and she is out to get the very man two others have already set their eyes on.

Meet Tachibana Marika, a girl with only one goal in mind: to take the next step towards romance with her fiancé. Marika has modified her looks, got rid of her accent, and traveled all the way to Tokyo just to be reunited with the boy she exchanged marriage vows with long ago. After all, time and place mean nothing to her as long as she can be by his side.

Marika makes the most out of her life to the best of her abilities. Born with a frail body, Marika had little opportunity to participate in events requiring strenuous physical activity. Yet, Marika does not let this condition bring her down. Marika is always seen smiling, cheerful, and cooperative towards many of her friends and peers. It does not take her long to find her place in her environment, and it looks like there is nothing that could bring her down. Marika is just happy to be able to spend a peaceful time at school while also reigniting the passion from years ago with the one whom she loves.

While the road to affection may yet prove bumpier than she thought, Marika is ready to take on any upcoming challenges… or challengers.


Past Notable Matches

ISML 2015 Regular Season: (15th Place)
Ruby 4: 2594-2622 to Asada Shino (Sword Art Online)


Best Girl Contest 2014: (Round 4)
Round 4: 2755-4595 to Saber (Fate Series)

Great Awwnime Bracket 2014: (Round 2)
Round 2: 338-342 to Haqua du Lot Herminium (Kami Nomi zo Shiru Sekai)

Anime Saimoe Tournament 2014: (Round 2)
Round 2: 145-195 to Minami Kotori (Love Live!)

Best Girl Contest 2015: (Round 3)
Round 3: 3491-5175 to Akiyama Mio (K-ON!)