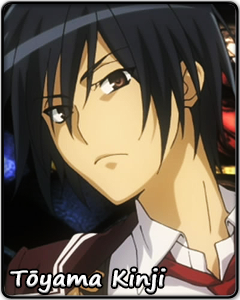 | | |
| --- | --- |
| Name: | Tōyama Kinji 「遠山金次」 |
| Title Series: | Hidan no Aria |
| Voiced by: | Majima Junji |
Career ISML Performance

Moe Tournament Résumé

What could be going on in the mind of the lone wolf known as Tōyama Kinji?

Once known as one of the best mercenary in his field, Kinji gives it all up to live a more normal life by transferring from a forward position to working behind the scenes. A series of unfortunate events made him despise everything that he thought he was working up for until his goals shattered in front of his face. As such, he began to distance himself from everyone, for it was the only way that he knew he can be safe from those feelings that he felt from long ago.

An encounter with a driven girl brings him back to the front lines that he revels. He could have not gone with the flow; however, he chose to, for there was something about this girl that made him realize what he should have been doing all this time. Instead of keeping his disgust about how the system works inside, he should change it into something that is more honorable and respectable. With a newfound partner, Kinji knows that he is not alone in trying to change the system one step at a time.

One more time, he raises his gun and prepares himself for his next mission.


Past Notable Matches