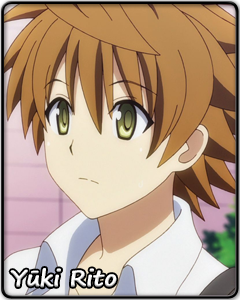 | | |
| --- | --- |
| Name: | Yūki Rito 「結城梨斗」 |
| Title Series: | To LOVE-Ru |
| Voiced by: | Watanabe Akeno |
Career ISML Performance

Moe Tournament Résumé

Having a female extraterrestrial pop up from your bathtub while bathing is one thing. Finding out that one has to marry her or else one's planet will be exterminated is an entirely different matter.

Unfortunately, that fate lies in the hands of Yuuki Rito, a boy who was living a normal life until this burden was thrown at him. Rito wanted nothing to do with any alien confrontations, regardless of race or gender. His main communication is running away, and if the enemy were getting closer to her, he will run away faster. He just wants his normal life back, not one where his fiancées' experiments would take him to a series of ill-fated events.

While Rito may act frightened, he has a strong sense of will and justice. Whenever he sees something wrong, Rito would walk up to the situation to try to calm it down. Sometimes, he befriends aliens when they seem human to him. Other times, he enters a conflict he knows he does not belong. Most of the time, something is chasing him because of his actions. Yet, all of this is done out of the kindness of his heart and the desire to maintain a sense of peace in his life.

And through his kindheartedness and generosity, Rito reveals the hidden strength of someone who knows of his weakness.


Past Notable Matches